The largest and second-oldest church in Omdurman was hit following similar bombings targeting local evangelical schools.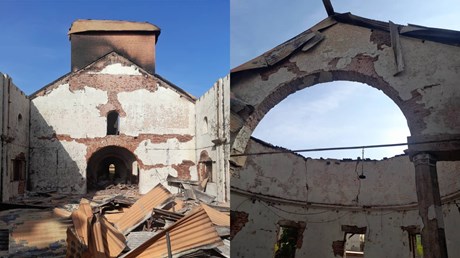 At least two Christian buildings were bombed last week amid fighting between rival military factions in Sudan, sources said.
Last Wednesday, a Sudan Evangelical Presbyterian Church building in Omdurman came under heavy shelling from the Sudanese Armed Forces (SAF) that left its worship structure in ruins, two sources with the church said. Local Christian leaders also confirmed the shellings in statements to CT.
The Church of Our Savior was the largest church in Omdurman and hosted worship for both Evangelical Presbyterians and Episcopalians.
When the bombs struck around 9 p.m., several people were at the compound, which includes an orphanage, but were unhurt. The church building was hit three times, causing severe damage especially to its roof. Everything inside was destroyed, including Bibles and hymnbooks, one of the sources said.
"Pray that peace comes to Sudan," said one of the church members who escaped injury.
According to Christian Solidarity Worldwide (CSW), "Most of the buildings registered to the Evangelical Church in the surrounding area were confiscated under the rule of Omar al-Bashir, and the latest shelling took place approximately three weeks after similar bombings of the Evangelical Commercial School and the Evangelical Secondary School, both in Omdurman."
CSW reported that the Protestant church was the second-oldest in Ombdurman after the Coptic Church.
Anglican Bishop Ezekiel Kondo told CT that the church, which "has been a place of worship for the last 81 years or so," was destroyed on All Saints Day. "We will update you as to who might be responsible for this barbaric act between the two warring parties," he stated. "Thank you for your continued prayer for …