Thousands of majority believers lost homes and churches in India's worst ethnic conflict this year. Yet they feel "overlooked and despised" by both sides.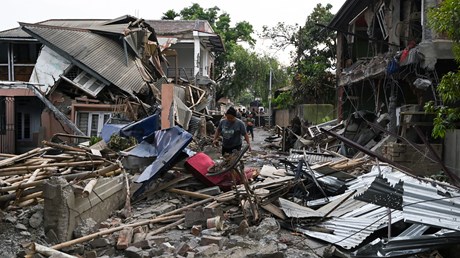 On May 3 of this year, Koireng (identified only by his first name) first heard reports that an unidentified group had lit a famous war memorial on fire. As a Meitei pastor in Churachandpur, a district in the Indian state of Manipur, Koireng grew alarmed by the news that the arson had escalated into widescale property destruction.
Tensions had been steadily increasing for weeks between the Kuki-Zo, a predominantly Christian tribal community, and the Meitei, Manipur's biggest and largely Hindu ethnic group. Over the next couple of weeks, mobs burned down dozens of homes, sending hundreds of Churachandpur residents into the forest for refuge, and retaliatory attacks killed two civilians on the first day of violence. (The current total death toll is at least 180, after six months of intermittent violence.)
At the beginning of the year, a number of different communities, including Christian Meiteis, Hindu Meitis, and Kuki-Zo Christians, resided in Churachandpur, which was also home to 21 Meitei churches, said Koireng, the pastor of Evangelical Free Church of India (EFCI) in Churachandpur.
Koireng had heard that Kuki-Zo mobs spared churches, though not Meitei Christian homes.
"They recognized the Christian Meitei houses from the non-Christian houses, but they equally burnt down all the homes," said Koireng, who quickly called all his church members to gather inside his church to stay together.
The attacks outside of Churachandpur and in the capital city of Imphal were fomented by Meitei mobs and led to thousands of Kuki-Zo fleeing their homes and the region. Since then, Christians like Koireng have found themselves in a bind: They cannot turn to either their ethnic kin or their fellow Christians for any sense of solidarity. …