UK-based theological institute celebrates the academic success of 15 Muslim-background students, many of whom suffered the impact of family rejection and political repression.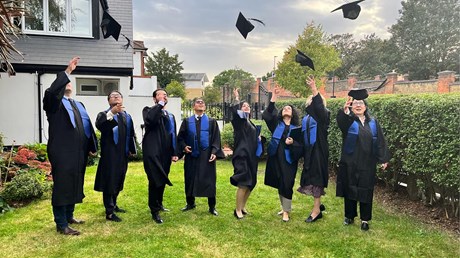 Iran's Islamic republic is driving its citizens away from religion—and into trauma and depression. But as Christianity grows among a disillusioned public, the church is not exempt from complications, whether at home or in the extensive diaspora.
"Many Iranian Christians struggle with high levels of anxiety and post-traumatic stress disorder, stemming from persecution but also from the general oppression of a totalitarian regime," said Shadi Fatehi, associate director of Pars Theological Centre. "We see the marks in many of our students."
Last month, the London-based institute celebrated its first graduating class.
Fifteen students completed the Farsi-language, three-year bachelor's in theology degree. Accredited as an institution by the World Evangelical Alliance–associated European Council for Theological Education, nearly half of Pars's over 600 students live in Iran, with almost a third in Turkey.
Its hybrid education model is primarily online, with a yearly residential program.
Located in 23 nations overall, the seminary launched the Pars Counseling Centre five years ago and began deliberately integrating it within the academic program. While the World Health Organization estimates five percent of the world population suffers from depression, peer-reviewed studies describe far greater numbers in Iran.
Between 15–31 percent of Iranians experience some form of mental disorder, with that number increasing to 37 percent in Tehran. Saeed Moeedfar, president of Iran's Sociological Association, described a "terrifying despair" gripping society, as one in five prescriptions are issued for antidepressants or sleep-inducing medications. And a 2021 study found …