Amid rising persecution to Christians in the world, here are some stories that can guide your intercessions.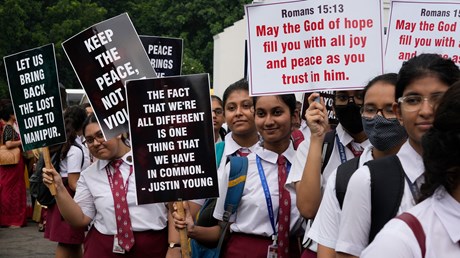 Christians around the world are praying for their 360 million brothers and sisters in Christ who live in countries with high levels of persecution and discrimination, as part of the International Days of Prayer for the Persecuted Church, which fall on Sundays November 5 and 12.
One in 7 Christians worldwide—including 1 in 5 believers in Africa, 2 in 5 in Asia, and 1 in 15 in Latin America—suffer greatly for their faith, according to the 2023 World Watch List (WWL). That's up from 260 million in the 2020 report.
Among believers who live under threat of violence, in Latin America, Colombian Christians are most at risk, followed by Mexican. In Asia, Pakistan ranks first, closely followed by India and Myanmar, while Nigeria ranks first in Africa and worldwide.
The hardship affecting the greatest number of Christians is displacement, with 124,310 Christians forced to leave their homes or go into hiding for faith-related reasons, in addition to 14,997 Christians who were forced to leave their countries.
While persecution is on the rise, however, the number of Christians coming to the United States from countries on WWL dropped from 32,248 in 2016 to 9,528 in 2022—a decline of 70 percent.
In 2021, President Biden set the refugee ceiling at 15,000 before raising it to 62,500 after faith groups protested. This past year, the ceiling was set at 125,000—however, the US resettled only about 60,000 refugees in fiscal year 2023.
At CT, we seek to report on the news affecting the global church and share stories of how God is at work in the world. As the body of Christ cries out in pain, we can cry out to the Lord on their behalf. We can extend …