Debate participants appealed to Zionist evangelicals while condemning campus antisemitism.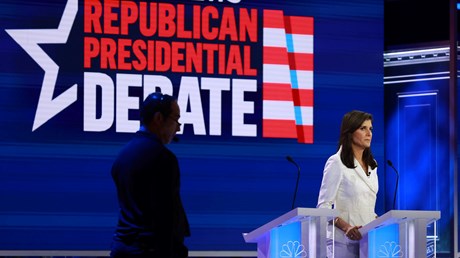 In the first debate since war erupted in the Middle East, candidates in the third GOP presidential primary debate spent over an hour addressing the conflict and coming to Israel's defense.
Israel has become a flashpoint in the campaign over the past month, with Republican presidential candidates mostly seeking to outdo their rivals in showing support for the Jewish state.
For many evangelical voters, "Israel is non-negotiable. There is a reflexive support of Israel," Mark Caleb Smith, a political science professor at Cedarville University, told Christianity Today. "So I'd be surprised if that fractures."
The United States must "support Israel with whatever they need, whenever they need it," said former ambassador to the United Nations Nikki Haley, who is vying for second place in the polls. Haley argued Israel is a strategic ally in the region for the United States when it comes to countering the influence of Iran and is the "tip of the spear when it comes to Islamic terrorism."
Throughout her campaign, Haley has been intentional in wooing prominent Christian Zionists. The launch of her presidential campaign in February featured Texas megachurch pastor and televangelist John Hagee, founder of Christians United for Israel, who gave an invocation prayer. Hagee endorsed Trump in 2016 but has yet to endorse a candidate this cycle. His group has sent over $1 million in relief to Israel following the October 7 attack.
On Wednesday, Haley distanced herself from the Biden administration's recent calls for a humanitarian pause in the fighting. "The last thing we need to do is to tell Israel what to do," she said. "The only thing we should be doing …