More than 300 Christian families have been affected, says a local pastor.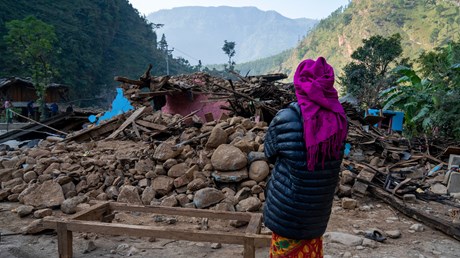 Nepali Christians are mourning the loss of many of their own after a series of devastating earthquakes in early November.
On Friday, November 3, a 5.6-magnitude earthquake rocked the mountainous Nepali villages of Jajarkot and Rukum West just before midnight, burying people under layers of rubble as they slept. A subsequent earthquake occurred on Monday, November 6, this time measuring 5.2 magnitude.
Many rural churches planted in the districts of West Rukum, Jajarkot, and Kalikot were "flattened," Hanok Tamang, chairman of the National Churches Fellowship of Nepal, told CT. "It is true [that] many pastors, leaders, and Christians have died."
Nepal's current population is 31 million and is divided into seven states and 77 districts. The earthquake-hit areas are located in the midwestern region of the country.
The overall estimated death toll is more than 150 people so far, including more than 80 children, according to the non-governmental organization Save The Children. Villagers have taken to sleeping outdoors in freezing conditions for fear of continuing aftershocks, but also because their homes have been destroyed.
The 2023 earthquakes are the "deadliest" occurrence since the devastating 2015 quake near the city of Kathmandu when believers were attending church on a Saturday, as Sunday is a work day. "Many Christians were buried while they were worshiping on Sabbath and died," the president of the Seventh-day Adventist Church in Nepal, Umesh Pokharel, told Adventist Review at the time.
Nepal's Christians make up between 1 to 3 percent of the population, and Protestants were disproportionately affected in the 2015 disaster, said one Catholic leader.
Preliminary reports …