Amid centenary of the secular republic, Erdoğan inaugurates a significant new church as local believers navigate Muslim society's stance on Palestine.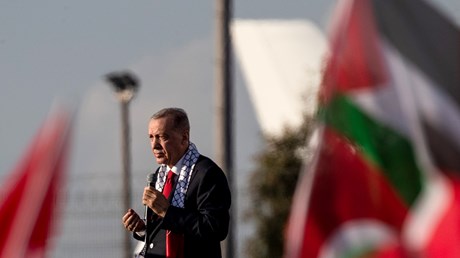 Defending Hamas, Turkish president Recep Erdoğan upstaged his own nation.
One day prior to last month's 100th anniversary of the modern state of Turkey (now formally called Türkiye), an estimated 1.5 million people gathered for a pro-Palestinian rally October 28 and heard their Islamist-leaning leader denounce Israel as a "war criminal."
"Hamas is not a terror organization," Erdoğan had previously stated October 25. "It is an organization of liberation, of mujahedeen, who fight to protect their land and citizens."
Observers noted that immediately after the October 7 terrorist attacks by Hamas that killed 1,200 mostly civilian Israelis and took 240 hostage, Erdoğan had struck a cautious tone. Reports circulated—denied by Ankara—that Turkish officials quietly asked Hamas leaders to depart the EU candidate country. And in advance of the rally, the president reiterated that he could never excuse acts that target civilians.
Then something changed.
Despite efforts over the past year to heal a diplomatic rift with Israel, Erdoğan now questioned its existence.
"What was Gaza and Palestine in 1947, what is it today?" he asked rhetorically, in reference to the establishment of Israeli statehood in 1948. "Israel, how did you get here? How did you get in? You are an invader."
And widening his scope, the head of the NATO-member nation impinged his allies in religious terms, calling the Gaza attack "revenge" for the 15th century fall of Constantinople.
"Oh, West, I cry out to you, do you want to start your crusade against the Crescent again?" Erdoğan asked. "If you are making such efforts, know that this nation is not dead."
The …