The spiral-bound tomes guarding the secrets of the best sugar cookies, sheet cake, and seven-layer salad are disappearing–but not completely.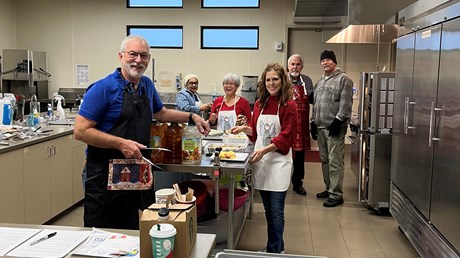 Did someone say Jell-O salad?
This is the time of year when families pull out their stained recipes to make crowd-pleasing casseroles, cakes, and cookies. Some of those favorite recipes come from church cookbooks, compiled by women over the decades since the 19th century.
These spiral-bound collections of recipes have been a staple in church culture, documenting the tastes and traditions of their communities over the years. But now, as cookbook enthusiasts age, the victual volumes are disappearing.
Tallowood Baptist Church in Houston used to print cookbooks filled with recipes for sheet cakes and soups, and members would make the dishes in a potluck to share. But it's been eight or nine years since their last edition.
"The people who were dedicated to the project are no longer with us, and no one has thought of doing another cookbook," said Joy Cryer, a church librarian at Tallowood.
It only takes one enthusiastic person in a church to compile recipes from members, but the internet has changed the way people cook and gather recipes. And Americans of all socioeconomic statuses generally cook less than they used to.
Though the church cookbook tradition has declined, it might be too early to declare it over. CT surveyed 22 church librarians, and more than a third said they knew of churches that were still printing cookbooks.
In Oshkosh, Wisconsin, 84-year-old Mona Schultz attends Plymouth Church, a nondenominational church of about 250. She wasn't sure if anyone cooked much anymore, or if there would be interest in doing a church cookbook. She asked a young women's Bible study at her church what they thought of the idea.
"I'm 84, I'm out of touch," said Schultz, who has been going …