Though Trump remains the frontrunner, poll-watchers say the South Carolina Methodist is having her moment.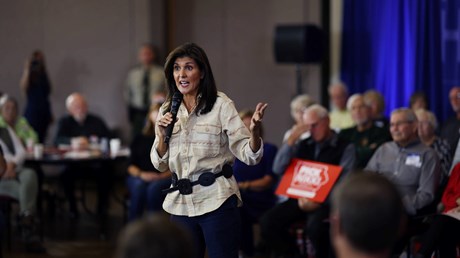 Veteran Iowa GOP activist Marlys Popma has gotten a call from Nikki Haley's presidential campaign every other week for months.
Popma's is one of those coveted endorsements among the state's conservative evangelicals. The 67-year-old served twice as the executive director of the Republican Party of Iowa and twice as president of Iowa Right to Life, and worked for the presidential campaigns of John McCain in 2008 and Ted Cruz in 2016.
But until a few days ago, she wasn't ready to back a candidate. Then, at a town hall on Friday in Newton, Iowa, Popma stood up and made a surprise endorsement. "I was an undecided voter when I walked in here," she told the room full of Iowans, who had just heard Haley's stump speech. "I no longer am an undecided voter."
Later, she told Christianity Today that "as a Christian, I just really felt the Spirit saying, 'This is what you need to do, where you need to go.' So I stood up and said, 'You've got my endorsement.'"
The welcome endorsement came as Haley, the former South Carolina governor and Trump-era US ambassador to the United Nations, is having a moment in the polls and following up strong debate performances with more detail on her pro-life stances .
During the fall, she's risen nearly ten points in Iowa—bringing her to trail Florida Gov. Ron DeSantis. In New Hampshire, she's risen 15 points in the polling, from 4 percent in August to 18 percent in November. She's maintaining second place in her native state of South Carolina. Donors have started to flock to her campaign. Surveys show voters prefer her in a matchup with President Joe Biden.
The momentum comes with a …